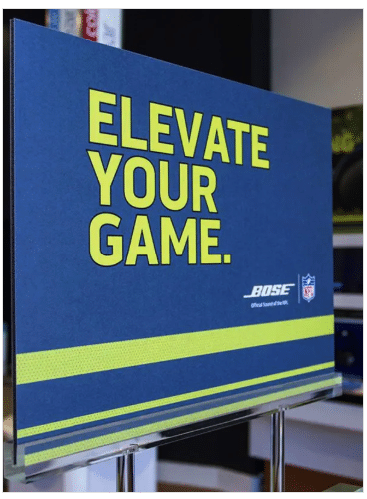 Foamcore goes by a variety of names in the marketplace, including foam board, fome-cor, fome core, and foam core board. No matter what you call it, foamcore is a rigid, lightweight material that is a great option for a variety of commercial as well as private applications. In this post, we will discuss the characteristics of foamcore, how foamcore compares to other indoor signage materials, where you may use or see foamcore, and how foam board can help you showcase your promotional materials or develop your next project.
Got it. But What is Foamcore, Exactly?
Foamcore is precisely what it sounds like. It is a sort of heavy-duty poster board with a foam interior. Its core is made of polystyrene foam that ranges in thickness from 3/16 of an inch to 1 inch, although custom thicknesses are also available. The face or outer layers of the foamcore board are coated with either bright white clay, brown kraft paper, cardboard, or black kraft paper. Foamcore can be cut to your specifications, and its surface can be printed with designs that range from logos and advertising signage to photo-realistic, freestanding cutouts that are life-sized, or, in some cases, larger than life. 
So Foamcore is Basically Fancy Posterboard? Tell Me More. 
Because of its polystyrene foam interior, foamcore has certain characteristics that the standard poster board does not. The foam board is rigid, meaning that it does not flop over or curl. It can be printed with either a glossy or a matte finish.
At 858 Graphics, the graphics team prints directly on the surface of the foamcore, unlike some distributors who print on vinyl material and then mount the vinyl print to the foam board. Over time, vinyl shrinks, and this shrinkage can cause the edges of your custom-printed poster to peel, which defeats the purpose of foamcore printing. Using the latest HP and OCE flatbed scanners, 858 Graphics is able to reduce labor costs while ensuring that the printed foam board does not have issues with peeling or de-lamination.
Foamcore is very adaptable being shaped with die-cutters, craft knives, or other custom cutting tools. For this reason, the foam board can be customized to the exact specifications you need for your business or your next project. Do you need 50 giant cut-outs of your spouses' head for a surprise birthday party? Or maybe just a series of signs in a variety of shapes and sizes for an upcoming tradeshow? Regardless of the size or scope of your project, foamcore may be just the solution you are looking for.
It Sounds Like Foamcore Can Do Anything!
Foamcore is remarkably versatile, yes, but it is, after all, high-quality foam with a cardboard coating, not some sort of miracle material. It should not be used for long-term outdoor displays, because when foamcore gets wet the integrity of the surface image, along with the white clay, cardboard, or kraft paper coating, will be compromised. In addition, if foamcore is pinched or squeezed, the foam will get squished and leave the back of the foam board with indentations. Although foam board is a pretty sturdy material, it is not indestructible, and it can be bent, warped, or creased with mishandling. Check out this video that shows what happens when you attack foamcore with fists, hammers, and even fire.
How Do I Know if Foamcore is Right for My Needs?
When you are trying to decide if foamcore is right for your project, you can always ask for support and direction from 858 Graphics' service team. They are experts in customizing options for your needs, and they understand the perspective of the small business owner, the personal crafter, the sales representative, a and the sports team, not to mention the needs of large corporations. Regardless, you may find it helpful to understand the characteristics of other common indoor signage options. 
Below, you will see a brief overview of interior signage alternatives. Gatorboard and ultraboard are the types of materials typically considered for the same venues and options as foamboard, but we have given you a rundown of many different interior signage options for perspective.
First Up, Let's Meet
Gatorboard
A typical sign printed on gatorboard will cost almost twice as much as a sign printed on foamcore, although the results look almost identical to each other. The interior of the gatorboard is also made of a material that is very similar to foamcore, and they both weigh about the same. 
What then, is the big difference? Where the exterior coating of foamboard is lightweight cardboard, the exterior of gatorboard is coated with a material that is more like wood. This wood-fiber veneer makes the gatorboard much more durable, so it is often chosen for longer-term applications. It resists the indentations that can occur in foamboard from pressing or pinching. It is much harder to bend, which all but eliminates the possibility of warping or creasing, although gatorboard can be broken with enough pressure. You can see gatorboard in menu boards, custom art displays, and other indoor signage. 
Don't Forget About Ultraboard
Ultraboard sounds like the comic book hero of the indoor signage world, like at any moment you may hear, "Here comes ultraboard to save the day!" Graphics printed on ultraboard create signs that look just like those printed on gatorboard or foam board, and ultraboard also has a foam interior. 
What makes ultraboard unique is that, instead of a cardboard coating like foamcore or a wood-fiber veneer like gatorboard, ultraboard is coated with a thick PVC finish. This makes ultraboard resistant to water damage, durable, and dent-resistant. As a result, ultraboard, like gatorboard, is an excellent choice for medium to long-term applications. 
What Other Options Exist for Indoor Signage?
Although gatorboard and ultraboard are the two closest alternatives to foamcore, there are still lots of other options for indoor signage and custom printing. Below, you find some of these solutions. 
Cardstock, a Popular Standby 
Anyone who has completed elementary school is likely familiar with standard cardstock. Inexpensive, readily accessible, and more durable than paper, cardstock has long been the go-to option not just for students, but for businesses, restaurants, and home applications. Cardstock is a solid option for temporary signs and announcements. Although cardstock is not resistant to weather and can be easily bent, it is often the medium of choice for handouts or small signs. 
Posters Have Come a Long Way Since Farrah Fawcett's Red Bathing Suit
Posters can be made from 80 lb paper, 17 point cardstock, or vinyl. The non-rigid, vinyl poster is weatherproof and UV resistant, and it can be rolled and re-used in various locations for years. Both the rollable options of vinyl and photo paper make it easy to travel with your signage in tow, and the non-rigid vinyl option is also tear-resistant. The photo paper and cardstocks options are best used for shorter time frames. 
It's HIPS to be Styrene
Styrene, also called high impact polystyrene (HIPS), is a plastic polymer that is impact-resistant, lightweight, waterproof, and flexible. You may see styrene signage in retail establishments, tabletop displays, and tradeshow displays. It is best used for short-term applications, though it can be used inside or outside. 
Coroplast is a Blast
Coroplast signs are inexpensive but vibrant corrugated plastic signs that can be used indoors or outdoors. Coroplast is actually the brand name the corrugated plastic product, and it is also known as Polyflute or Correx. Coroplast is made of polypropylene with twin walls and a fluted core. Although is it often used outdoors, it can warp when exposed to high heat. Coroplast is lightweight, easy to cut, and waterproof, and these qualities make coroplast the medium of choice for campaign signs, yard signs with thin metal stakes, temporary notices, and directional signs.  
PVC, a.k.a. Sintra (Not to be Confused with Sinatra)
Sintra is a brand name for a type of moderately expanded, closed-cell polyvinyl chloride (PVC) board that is lightweight, rigid, and can be printed on one or both sides. It is heat-, chemical-, and weather-resistant, and it is available in a variety of thicknesses. Since Sintra can be used indoors or out, you may see Sintra signage on table displays, labels, a variety of signs, dimensional letters, and 3D displays.
Adhesive Vinyl Can Really Stick
Unlike cardstock or the various boards with foam interiors, adhesive vinyl is durable enough for long-term as well as outdoor use, although adhesive vinyl has many indoor applications as well.  As the name implies, adhesive vinyl is made from high-quality vinyl coated with a strong adhesive so that the graphic can be applied to walls, glass, certain types of carts and furniture, and even vehicles. Like the finishes available for other signage options, 858 Graphic's reflective vinyl comes in gloss and matte finishes, but it can also be printed with a clear finish or even custom finishes. 
Acrylic, Not Just for Nail Salons
Acrylic is the probably the sturdiest, longest-lasting flat signage option listed so far. Acrylic typically comes in thicknesses from ⅛ inch to 1 inch, and it is very resistant to cracking, shattering, or breaking. The archival print used in acrylic signage is UV resistant and waterproof, but it is best kept from long-time direct exposure to the elements. In addition, acrylic's characteristic glossy surface may scratch over time if it is not regularly cleaned with proper materials. Some of the places you may see acrylic display panels will be in museums, hospitals, gyms, lobbies, and homes. 
Call Me Bond, Dibond
Dibond is a durable aluminum composite material that is bonded to both sides of a thermoplastic core (PVC). It is lightweight and it comes in a variety of finishes that highlight the metallic nature of the material, so it is perfect for single- or double-sided metal signs. If you are curious about the strength of Dibond, check out this video where Dibond is subjected to various abuses, including being torched with a flame thrower and run over by an SUV. 
Don't Forget Canvas
Canvas has been the medium of choice for showcasing art the world over for hundreds of years, but now high-resolution images can be printed directly on the canvas. This option gives your image the effect of fine art while the digital printing process ensures deeply colored, vibrant details. Fully customizable, canvas is the option of choice for showcasing print photography in homes, offices, and stores, and 858 Graphics offers canvas printing on gesso-treated canvases that you can mount yourself, as well as options for printing on pre-stretched, wrapped canvases. 
From Alpha to Omega Board
Omega board has a wooden core finished with glossy white vinyl. It can be used indoors or out, and it is impact- and fade-resistant. You may see Omega board being used in billboards, hotel signage, subdivision or workplace signs, or even scoreboards. 
Whew, Those Were a Lot of Options!
Right?! I thought we were talking about foamcore. 858 Graphics has the advantage of being one of the largest wholesale distributors of foam boards in the United States, and they specialize in providing die-cut foamcore solutions. Because they are dedicated to service and rapid response times, they keep enough foam board printing material in stock to completely cover eight football fields! Now that you are familiar with the many varieties of options for interior signage, let's go back to discussing the uses and applications of foamcore.
Are you trying to raise school spirit for a pep rally, or perhaps you just want to show the opposing team how enthusiastic your team's fanbase is? Consider foamcore cutouts of key players, coaches, or mascots. 
Need easy-to-mount signs for a retail display? The lightweight material and vibrant graphics of printed foamcore provide a clean, professional look for any establishment.
Remember when we mentioned life-sized cutouts earlier? Foamcore can be used to produce a photo-realistic, free-standing images of your friends, coworkers, or even famous figures. Commonly seen in theaters and similar venues, life-sized foamcore cutouts make for an interesting, multi-dimensional addition to your event or venue, and they make for great photo ops as well!
What about a table-top or pop-up display? You guessed it, foamcore has you covered here too. Advertise a sale or call attention to a happy hour special with a table-top display.
Cool Ideas! But How Do I Display My Foamcore? 
There are three basic methods available for hanging or mounting your foamcore print, and the one you choose will depend on your needs. 
It's Like Artwork, So How About an Easel?
Foamcore stands made from cardboard easels are easy to affix to the back of your foamcore signs, and they are also cost-effective. Cardboard easels can take your flat foamboard print and transform it into a table-top display. A version of this easel is also used for larger, free-standing cut-outs, and these versions are customized based on the size of the cut-out. Cardboard easels are shipped flat and are easy to assemble on site.
Spider Feet (Don't Panic, They Sound Scarier Than They Are)
Spider feet are steel supports that hold your flat foamcore print upright. They can be used over and over, so spider feet are a good option for displays that are changed out on a regular or seasonal basis. 
Easy to Install Wall Mounting Kits 
If you are planning to mount your foamcore print on a wall, the wall mounting kit is your best bet. The kit comes with a wall mounting bracket, and this bracket can be taped or screwed to the wall where you want to display your foamcore sign. The wall mounting bracket is cut at a slight angle, and a corresponding bracket is affixed to the back of the foam board print. Once the wall mounting bracket is installed, you simply hand the foamboard bracket on top of it. 
Is There Anything Else I Should Know About Foamcore?
In addition to the applications listed above, foamcore is also the medium of choice for architects and city planners when creating models for buildings or layouts. Because foamcore makes it easy to cut clean lines, you can create entire tabletop cities and extensive architectural models from this lightweight material. 
Foam board is also useful for creating dioramas, making trifolds for science projects, designing theater sets and scenery, creating model airplanes (or radio-controlled aircraft), and developing small prototypes of larger products. 
Photographers may use a white foam board to bounce light or to create a lightbox, or they may use black foamcore to absorb light. You may also see different types of foam board used in picture framing — either as backing material or as part of the picture frame itself. 
Given the cost-effectiveness and versatility of foamcore, the possibilities and ways to use foam board are endless. Give 858 Graphics a call or take a stroll through their photo gallery to see just how to make foamcore or other custom signage, print, and display options work for all of your needs, whether at home, at work, or for your next big event.